Oxynetra semihyalina, Bolivia

Janthecla rocena, Guyana

Pterourus zagreus, Peru

Mesosemia metuana, Colombia

Eresia ithomioides, Ecuador

Catasticta discincta, Peru
Ecuador - Southern Andes
Mariposa Butterfly Tours Itinerary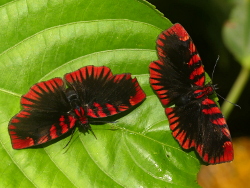 Day 1 (November 17, 2018) - Arrival in Quito
Today everyone will arrive in Quito; we'll meet up in the evening and prepare for tomorrow's fun!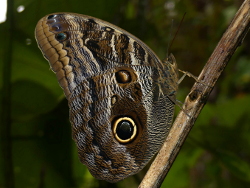 Day 2 - To the Jungle
Today will begin with an early flight from Quito to Catamayo, from where we'll drive out of the dry inter-Andean valleys and into the East Andean cloud forest. We have all day to make a drive of about 3 hours, so there will be time to search for butterflies along the way. Depending on the weather, we'll pick a spot and do this, arriving at Copalinga in the late afternoon.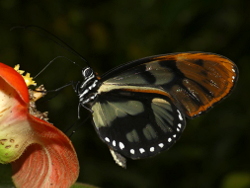 Days 3-5 - Bombuscaro Valley
Copalinga will be our base for exploring the Bombuscaro Valley. We're likely to encounter a great variety of large, gaudy Nymphalids like Doxocopa, Adelpha, and lots of others. Along the road and river, we'll actually be targetting more unusual species such as the local specialty firetip Mimardaris minthe which often joins puddle parties. On forest trails in the area, we'll look for the elusive but beautiful clearwing Athesis acrisione. We can also expect a variety of metalmarks and skippers to get out trip list of to an exciting start.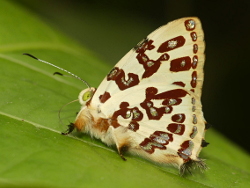 Day 6 - Off the beaten track
We have another 3-hour drive today, as we head to the remote Nangaritza Valley near the Peruvian border. Somewhere along the way, we'll make a stop for butterflying - or perhaps use the time to catch up on further treats around Copalinga!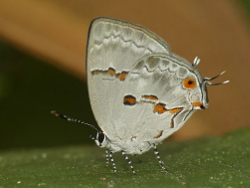 Days 7-9 - Las Orquideas Area
Around the remote village of Las Orquideas, there are several reserves and trails we can visit, and we'll spend 3 full days exploring the area. On past trips, we've had a great variety of Ithomiini (clearwings) in flowery clearwings, and there is also a good chance of some South American classics like Prepona claudina (formerly called Agrias), the "lipstick skipper" Haemactis sanguinalis and, as always, some surprising hairstreaks - maybe even some nice green ones!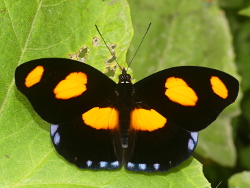 Day 10 - Back into the Andes
Today will mostly be a travel day, as we head back in the inter-Andean Valleys. Still, with 5 hours of driving time, we will hvae a chance to look for a few bugs on the way - perhaps stopping at the pass above Loja where we could get our first taste of high-elevation stayrs including the stunning Lymanopoda samius.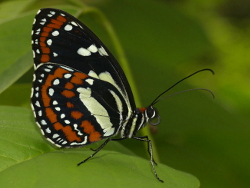 Days 11-14 - Touring the Andes
Within 2 hours drive of our pleasant hotel in Vilcabamba, there are several excellent butterflying sites. Some of these will allow us to sample the unusual butterflies of the relatively dry valleys (a bunch of clearwings including Scada zemira, the surprisingly pretty Staphylus cordillerae, Strymon michelle and the local classic - Elzunia pavonii). Most other places are cloud forest sites at various elevations - we'll look for some special Dalla skipperlings, some great satyrs such as Junea dorinda and Apexacuta orsedice, a various others including Catasticta incerta and Enosis dognini. This should be an excellent four days of great butterflying days and tasty, healthy food in the evenings - our hotel does a great of taking care of us here!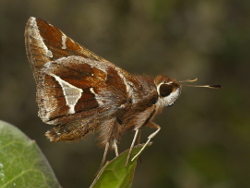 Day 15 - To the West Slope
This will be another travel day, but again with butterflying time en route. A favourite site along the drive has previously produced gems like Thespieus thona, Penaincisalia atymna, Parapedaliodes parepa, and Noctuana brunneofusca. Most excitingly, it is a hilltopping site, so surprises are always possible.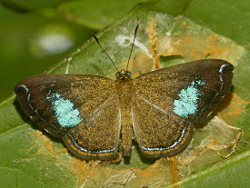 Days 16-18 - Buenaventura
This will be a brand-new site for me, but I'm very exciting to explore this classic west slope cloud forest. We should be very comfortable at this famous birdwatching lodge as we explore habitats between 400 and 1400 m. elevation. Obviously I don't know what we might find, but I'm expecting a great mix of striking metalmarks, hairstreaks, and Heliconius, as well as some localized Andean skippers and satyrs!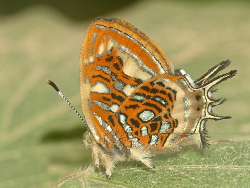 Day 19 - Back to the Airport...
Our final day of the trip will be dedicated to getting us safely started on our journey home. We'll drive to the Catamayo airport and catch an afternoon flight to Quito; international connections after 9:00 PM can be made.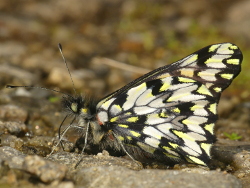 Prices
Price per person depends on group size, and includes: all in-country transportation, all meals and drinking water, lodging (includes one night in Quito; depending on international flights you may need two, which we can also arrange for you), guiding, and entrance fees. Not included are tips, laundry, and extra drinks.
Group of 4 USD$6080 per person | Group of 6 USD$4890 per person
| Group of 8 USD$4290 per person
Single Supplement: USD$770 (regardless of group size)