Thespieus himella, Brazil

Brangas getus, Peru

Mimoides lysithous, Argentina

Catasticta fulva, Peru

Pampasatyrus reticulata, Brazil

Ourocnemis boulleti, Ecuador
2023 tours · 2024 tours · Available Itineraries
2023
---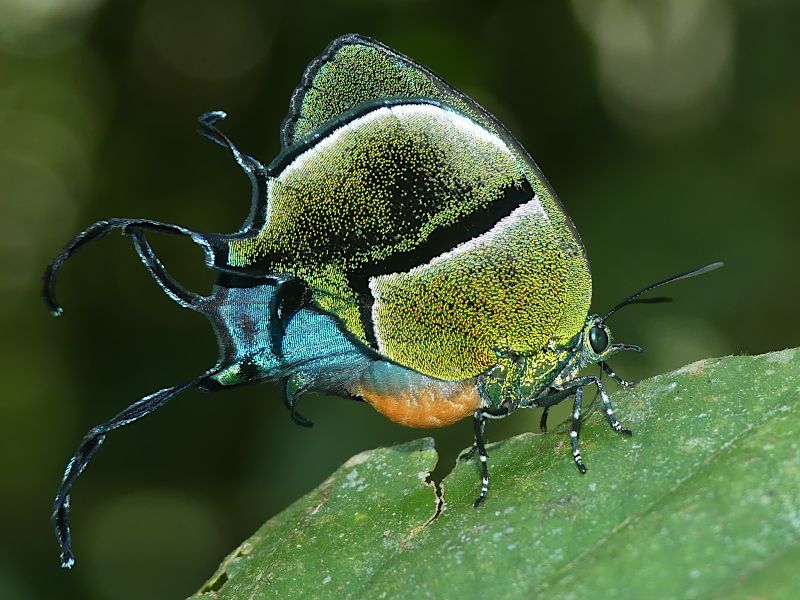 Madre de Dios Lowlands PERU
Aug 26-Sep 09 2023
Revisiting my favourite lowlands site (ARCC), and checking out a new one.
| 15 days | 2 lodges | humid forest | 180-230 m. |
Private tour; no spaces available.
---
Manu Road PERU
Sep 12-28 2023
The classic Manu Road tour - it's great every time!
| 17 days | 3 lodges | humid forest, puna | 550-4000 m. |
Trip full.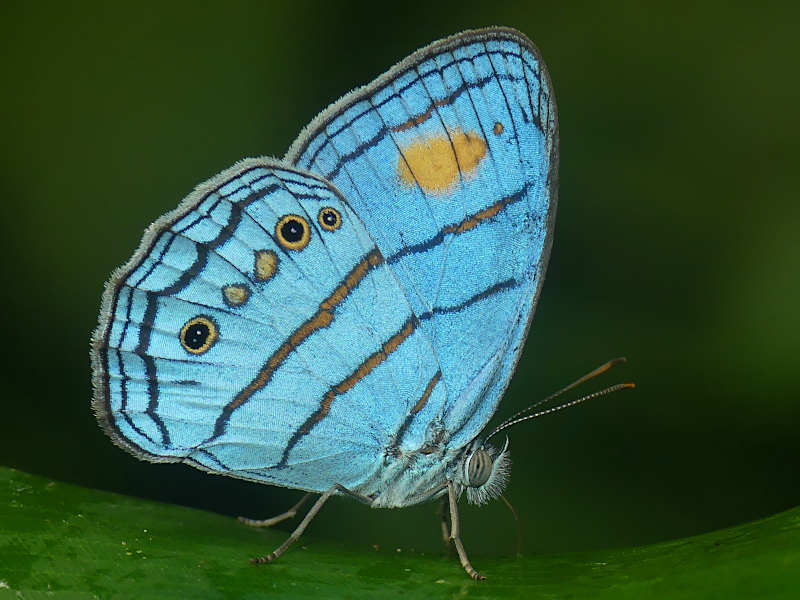 ---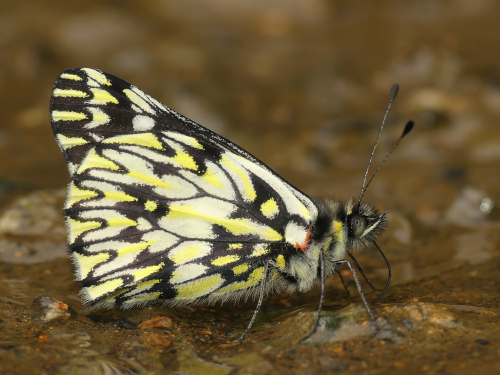 Manu Road PERU
Sep 28-Oct15 2023
Back-to-back Manu Road trips - perhaps my last two, depending on what happens to the road in the future!
| 18 days | 4 lodges | humid forest, puna | 500-4200 m. |
Private tour; no spaces available.
---
Thanksgiving in ECUADOR(?)
Nov 21-28 2023
I've finally remember to look ahead and not book tours over American Thanksgiving... but I'll be in Ecuador for a week before my next tour, and am available to guide you wherever you want (based out of Quito). If you're interested, let me know and I can produce some suggestions.
| 7 days | 1-2 lodges | humid forest, paramo | ?-? m. |
Open trip; 8 spaces available.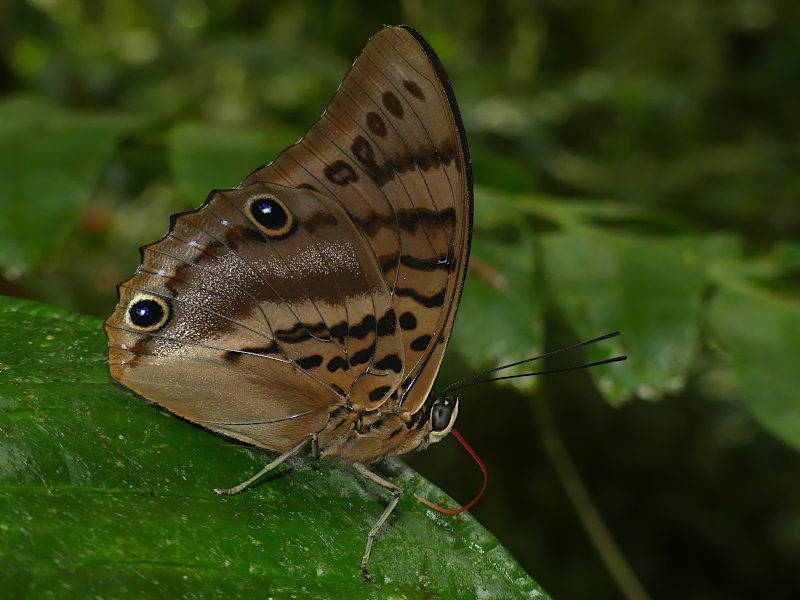 ---
Southern ECUADOR
Nov 29-Dec13 2023
Southern Ecuador has some of the greatest Amazonian foothill, cloud forest, and rainshadow valley butterflying sites in the world.
| 15 days | 4 lodges | humid forest, semi-humid valleys | 900-2750 m. |
Open trip; 6 spaces available.
---
2023 tours · 2024 tours · Available Itineraries
---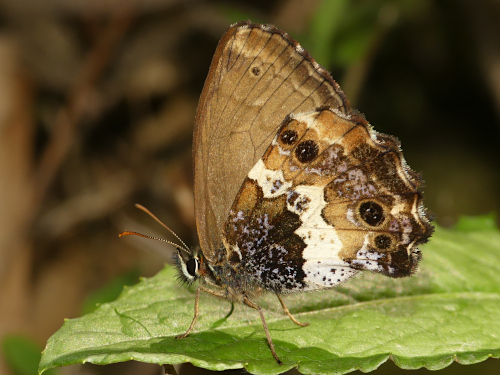 Atlantic Forest Mountains BRAZIL
Jan 18-Feb 01 2024
After a couple of very exciting exploratory trips, I'm finally offering a regular tour to the fascinating Atlantic Forest region of SE Brazil; January is the time to do the highlands, so that's what we'll concentrate on to kick off 2024!
| 21 days | 5 lodges | humid forest | 800-2300 m. |
Trip full.
---
2023 tours · 2024 tours · Available Itineraries
---
Available Itineraries
These are brief descriptions of the tours that we run, and they are all available to be run as private trips - in fact, the majority of our trips are initiated by a request by someone interested in one of these itineraries. They are all customizable in terms of length and difficulty, and to some extent time of year; basic information is presented here, but you should contact us to learn more about whatever itinerary interests you!
Since price is based on group size and on various details we will decide on, they're not included here but I give a "score" of $ (relatively inexpensive, around USD$200 all inclusive per person per day in a group of 4) to $$$ (relatively expensive, around USD$600 all inclusive per person per day in a group of 4). Prices decrease with increasing group size; our maximum group size is 8. I've noted "Single Destination Tours" - these are growing in popularity, and are trips on which you can spend 1-2 weeks enjoying a great variety of butterflies while based at one of our favourite lodges.
Argentina · Bolivia · Brazil · Colombia · Ecuador · Guyana · Peru
---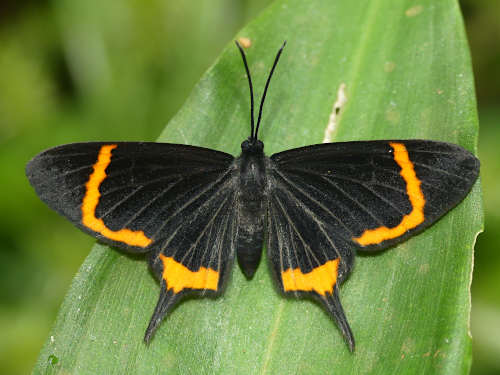 ARGENTINA - Misiones
Argentina is vast, but Misiones - a tiny department in the extreme northeast - is the undisputed butterfly capital of the country. Although a lot of its territory is given over to agriculture, the patches of remaining habitat - most notably Parque Nacional Iguazú (and yes, we can include visit to the wonder-of-the-world falls in the tour) and the vast Yabotí Biosphere Reserve - are diverse Atlantic Rainforest. There are several nice lodges scattered throughout the department. The butterfly possibilities are nearly endless; for many, the main target is Barbicornis basilis, which is usually fairly common at some sites. Other favourites include the beautiful Dynamine myrrhina, Myscelia orsis, Lycas argentea, and two Caria species. Misiones is best visited between November and February. $$
| 5-14 days | 1-4 lodges | humid forest | 100-300 m. |
---
ARGENTINA - Patagonia
Patagonia is famous for its scenery, but it's also home to butterflies - not that many, to be honest, but some very interesting species. Many of them are satyrs, including the glittering silver Argyrophorus argenteus and other striking species like Neomaenas fractifascia. Several pretty species of Butleria skipperlings are also targets, including B. paniscoides and B. fruticolens. The real attraction here is that almost nothing you see will be a species you've seen elsewhere in South America - more Patagonian endemics we could find include Tatochila theodice, Vanessa terpsichore, and Yramea lathonioides. A Patagonia visit can be combined with Misiones for a nice 3 week holiday.$$
| 5-14 days | 1-4 lodges | temperate forests & steppe | 600-1800 m. |
Argentina · Bolivia · Brazil · Colombia · Ecuador · Guyana · Peru
---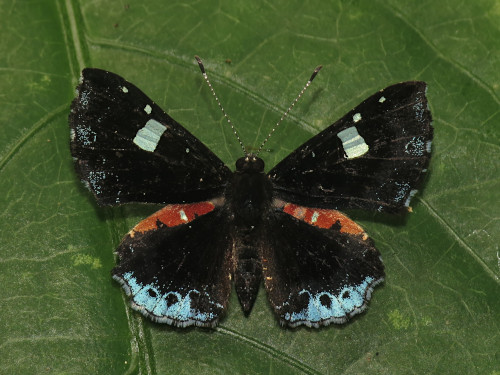 BOLIVIA - Los Volcanes
Single-destination tour!
Los Volcanes is a very pleasant lodge about 2 hours from Santa Cruz in Central Bolivia. It is set in seasonal mid-elevation forest and is best visited during the rainy season (December-February). The butterflies are a mix of Andean and lowlands species; particularly common is the clear-winged metalmark Chorinea sylphina. Perhaps the best single site on the extensive trail network is a hilltop near the lodge that is frequented by dozens of species of hairstreaks and a variety of other butterflies. The charming hosts and lovely setting make this an excellent place to visit for up to 10 days. It can be combined with Chapare (see below) by a full day's drive. $$
| 5-10 days | 1 lodge | seasonal forest | 1200-1800 m. |
---
BOLIVIA - Chapare
The Chapare area of Central Bolivia is the meeting of the Andes and the lowlands; most of the easily available butterflying is at lower elevations. There are a few interesting sites, but the most interesting one is about an hour's drive from Villa Tunari where we base ourselves for this area. This is the Old Chapare Road, and it passes through parts of Carrasco National Park. It is an excellent area for Memphis, and various species of firetips. We stay in a pleasant country hotel, but there are few interesting butterflies in the immediate area; we'll be driving out to habitat each day. Chapare is one of the wettest areas in Bolivia, and gets rain in every month; butterflying should be best between July and November. This can be made into a nice 2-week tour by combining it with Los Volcanes, a full day's drive away and with the international airport at Santa Cruz in between. $$
| 5-10 days | 1 lodge | humid forest | 500-1200 m. |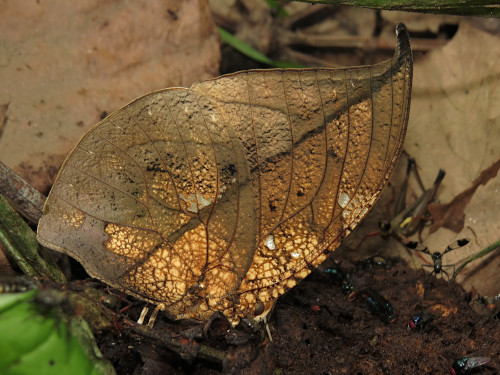 ---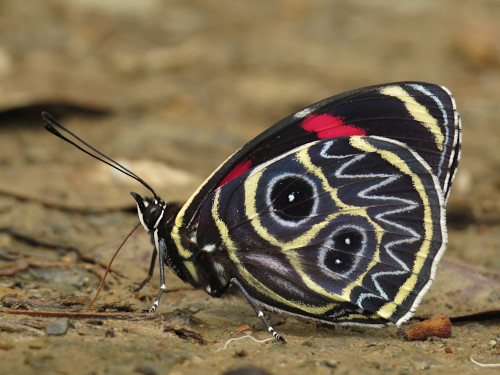 BOLIVIA - La Paz Yungas
One of the best butterflying area in the Andes - especially for a spectacular variety of firetips - is the Chulumani/Coroico area, a half-day's drive from La Paz city. The problem is that the accommodations in this area are not particularly attractive; we'll stay in basic hotels in the two towns and drive out to patches of habitat each day. Around Chulumani, there is excellent forest to be found on the San Isidro Road where we can expect some interesting endemic satyrs and Perisama species, while lower elevations around town can be especially good for firetips including the spectacular Oxynetra semihyalina. Around Coroico we'll focus more on lower elevations and might find some nice metalmarks including glittering green Caria and fancy jewelmarks of various kinds. Those considering this trip should be prepared for excellent butterflies but sub-par accommodations! Generally the best time to visit this area is September-November. $
| 7-12 days | 2 hotels | humid forest | 1000-3300 m. |
Argentina · Bolivia · Brazil · Colombia · Ecuador · Guyana · Peru
---
BRAZIL - Atlantic Rainforest
Southeast Brazil is one of South America's great centres of endemnism; this is well-known among birders, but butterfly photographers are just starting to learn! There are plenty of spectacular specialties, like Sarbia firetips, a variety of unique owl-butterflies (Dasyophthalma, Blepolenis, and others), some stunning hairstreaks, and of course my personal favourites - weird metalmarks like Ionotus and Stichelia. There are several excellent lodges and hotels we can use to explore areas in São Paulo and Rio de Janeiro states, depending on how long you want to spend and what targets you have. Some of my favourites sites are Itatiaia National Park, Campos do Jordão, and Serra da Bocaina, but there are plenty of other options too. Depending on which sites you are interested in visiting, some time between October and June is probably best in this area. $$-$$$
| 5-21 days | 1-4 lodges | humid forest | 0-2300 m. |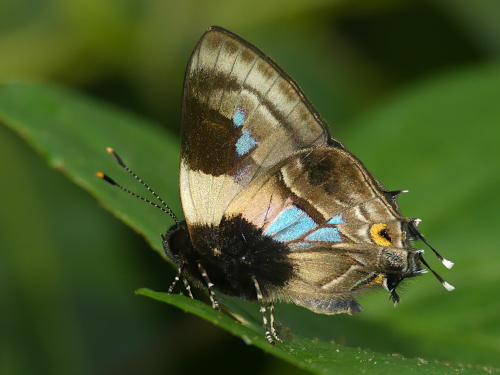 ---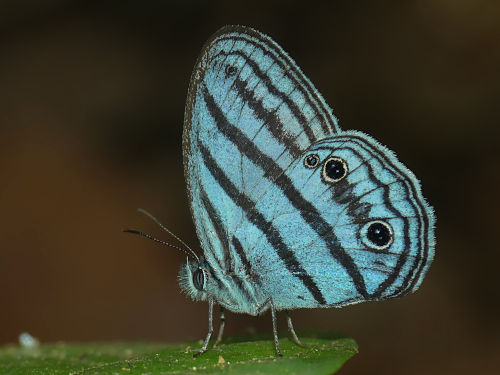 BRAZIL - Jaguars & Butterflies
Most of my tour participants are reluctant to spend any time looking for anything that isn't a butterfly, or at least a moth... but seeing Jaguars in the wild is a pretty exciting experience! On this tour you can enjoy some excellent Amazonian butterflying and also visit the famous Pantanal - where there are some butterflies to see too! We can also spend a few days in the unique cerrado habitat, where I hope we can find the enigmatic Zigzag Firetip (Microceris variicolor). $$-$$$
| 7-16 days | 2-4 lodges | rainforest, wetlands, cerrado | 100-300 m. |
Argentina · Bolivia · Brazil · Colombia · Ecuador · Guyana · Peru
---
COLOMBIA
For personal reasons, we are not offering regular Colombia tours at the moment; we are hopeful that this will change in the future - check back regularly! If you are particularly keen on Colombia, we may be able to organize something for you, so please get in touch with any questions. $ - $$
| 5-30 days | 1-6 lodges | various habitats | 0-4000 m. |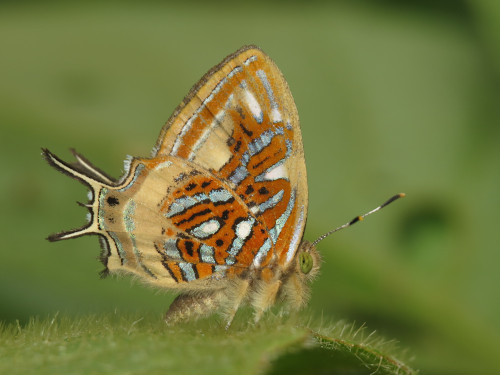 Argentina · Bolivia · Brazil · Colombia · Ecuador · Guyana · Peru
---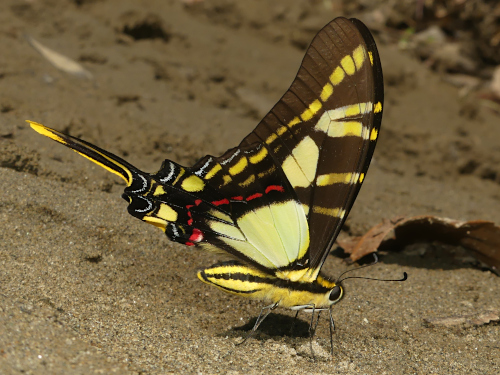 ECUADOR - Napo Headwaters
This is a classic butterflying route covering the E slope of the Andes out of Quito. There are numerous lodges that can be combined in various ways depending on your budget and interests. There is virtually no limit on what Andean or Amazonain butterflies you can expect on this route; most of the driving is on good paved roads and high-quality accommdations are available. This is a rainy area at any time of year, but is especially wet from March through July, when a trip is NOT recommended. Given the flexibility, this is an excellent area to consider for your first South American butterfly trip - and if you're an experienced traveller and haven't been here, you definitely need to do it! $-$$$
| 10-21 days | 1-7 lodge | humid forest | 300-3500 m. |
---
ECUADOR - Mindo Area
Mindo is a famous cloud forest town on the W slope of the Andes just a couple of hours from Quito. The accessibility and variety of lodges make it a popular desination for nature-lovers of all kinds, including butterfly photographers. This can be a very good area for clearwings (Ithomiini) and is also home to an interesting variety of Adelpha species and metalmarks at lower elevations. January through April should be avoided due to particularly heavy rains, but it is possible to visit Mindo at any time of year. $-$$$
| 5-14 days | 1-4 lodges | humid forest | 400-2500 m. |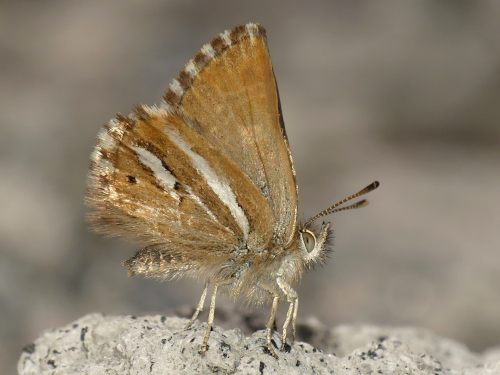 ---
ECUADOR - Tena
Single-destination tour!
Tena is a bustling town in the Amazonian foothills about 5 hours by car from Quito, and it makes an excellent base from which to explore one of the best butterflying areas in the world. We'll make day trips to nearby sites such as the famous Apuya Track (think amazing metalmarks, Batesia and many others), Jatun Sacha Biological Station (beautiful lowland forest full of clearwings, owl-butterflies, and who knows what else!), and other sites. This trip is best done bewteen October and January. $$
| 5-14 days | 1 lodge/hotel | humid forest | 500-900 m. |
Argentina · Bolivia · Brazil · Colombia · Ecuador · Guyana · Peru
---
GUYANA
This small country has some of the best-preserved lowland rainforest on the continent, and it can be sampled brilliantly in the Iwokrama and Surama areas. This is a new destination for us, but our exploration trip found an incredible variety of metalmarks (particularly Mesosemia and Nymphidium) and also plenty of glimmering blue satyrs and lots of wonderful spreadwing skippers including three beautiful Entheus. $$
| 10-18 days | 1-4 lodges | forest & savanna | 0-300 m. |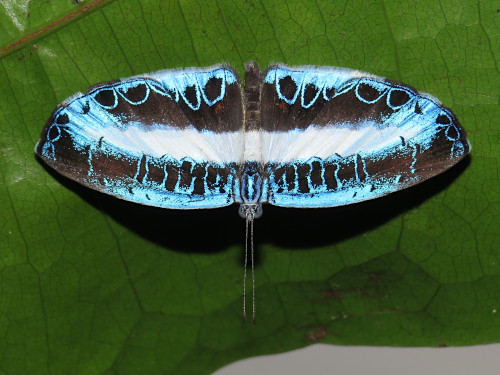 Argentina · Bolivia · Brazil · Colombia · Ecuador · Guyana · Peru
---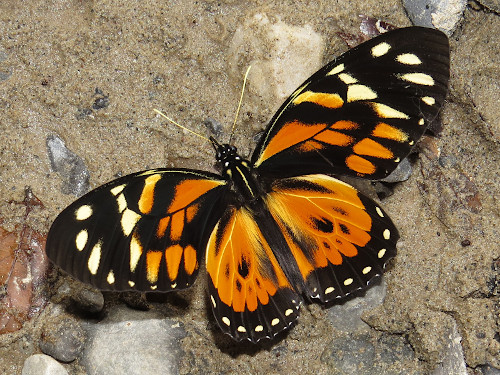 PERU Northern Andes
The transect up the Mayo Valley from from Tarapoto to Abra Patricia is quickly gaining a reputation as one of the great Andean butterflying routes. Staying at three different lodges, we're able to sample lowland, foothill, and Andean cloud forest species with limited overlap between the sites. There are several great forest roads and trails to work, and the appropriately named "Playa Mariposa" (=Butterfly Beach) is a world-class site we'll visit at least twice - one day in October 2016 we encountered over 200 species during a few hours there! This tour is best done between September and December. $$
| 10-21 days | 2-3 lodges | humid forest | 350-2300 m. |
---
PERU Central Peru (Selva Central)
If you're a firetip addict (and why wouldn't you be?) this is the tour for you! For whatever reason, the E slope of the Andes directly east of Lima is full of these big gaudy skippers, and lots of other butterflies too, of course. There are several ways to organize a trip in this diverse area, depending on your budget, time, and interests. The best time of year, especially if you're after those firetips, is November. $$
| 10-21 days | 3-4 lodges | various habitats | 350-4800 m. |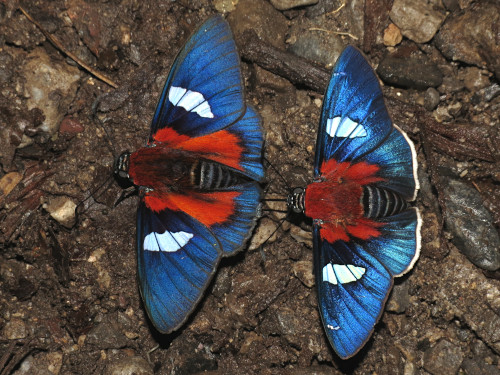 ---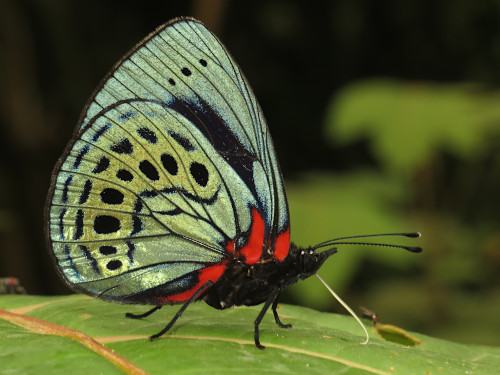 PERU Manu Road
Single-destination tour!
This is the original single-destination tour. The Manu Road is probably the best butterflying road in the world - where else can you reasonably expect 800 species in two weeks?! The reason for this diversity is the excellent habitat accessible all along the road, from the treeline at 3600 m. down to the Amazonian lowlands at 500 m.. Like most wide transects, everything is possible - from scores of satyrs and crowds of dartwhites in the Andes to magical metalmarks and magnificent morphos in the lowlands. If I were to recommend just one Neotropical butterflying trip, this would certainly be it. This can be combined with a true lowlands site (see Madre de Dios, below) for the ultimate butterflying holiday. Aim for October-November, though July-September can be okay too. $$-$$$
| 5-21 days | 1-3 lodges | various habitats | 350-4800 m. |
---
PERU Madre de Dios
Single-destination tour!
The rainforest lowlands of Madre de Dios in SE Peru are one of the most biodiverse habitats in the world. As long as it's lowland stuff you're after - Heliconius longwings, Euselasia and many other metalmarks, endless skippers of all types, or even clouds of puddling sulphurs and swallowtails - you're likely to find it here. For an ideal butterfly trip, combine a lowland lodge or two with the Manu Road (see above) for a three-week trip. $-$$$
| 5-20 days | 1-4 lodges | humid forest | 150-500 m. |