Thespieus himella, Brazil

Brangas getus, Peru

Mimoides lysithous, Argentina

Catasticta fulva, Peru

Pampasatyrus reticulata, Brazil

Ourocnemis boulleti, Ecuador
Brazil - Atlantic Forest
Mariposa Butterfly Tours Sample Itinerary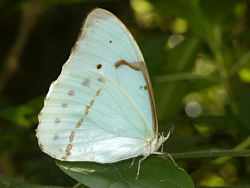 Day 1 - Up Into the Serra
Today will be a travel day, taking us from bustling Rio de Janeiro up into the beautiful Serra da Bocaina, a coastal mountain range about 5 hours' drive west of the city. We'll have a few hours in the afternoon to explore the immediate vicinity of our beautiful lodge grounds where we're likely to encounter our first ghostly Morpho epistrophus.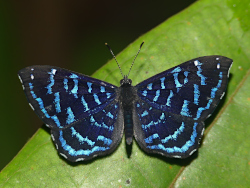 Days 2-4 - Serra da Bocaina
We'll have 3 full days to explore the backroads through the remote hills around our lodge, as well as the trails in our own backyard! There's no limit to what we might find; flowers attract several stunning species of Thespieus skippers, and we can visit roosting sites for Sarbia firetips as they warm up in the early morning sun. Later on, wet spots on the road can attract the endemic Eurytides bellerophon among other swallowtails. There are also neat hairstreaks to be found, such as Arawacus meliboeus and Celmia uzza, and late in the afternoon we can check out a lek of Ionotus alector on a trail near the lodge. Combine all those butterflies - and more! - with one of the most pleasant accommodations I know of, and it should make a great start to the trip!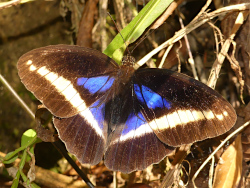 Day 5 - to Itatiaia
On our final morning around Serra da Bocaina, we'll hunt down whatever species have frustrated us so far - perhaps some nice owl-butterflies, like Dasyophalma rusina or Blepolenis batea. After lunch, we'll make the 3 hour drive to Itatiaia National Park.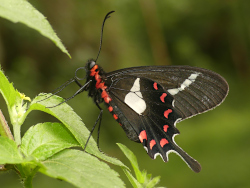 Days 6-8 - PN de Itatiaia
Parque Nacional de Itatiaia protects some of the most pristine and accessible montane Atlantic Rainforest, and we'll spend three full days exploring the lower elevations. There are several good trails near our hotel and within a half-hour drive. A variety of clearwings can often be found visiting flowers, including Episcada philoclea, Ithomia drymo, and Epityches eupompe. Along the roadsides, we'll hope to find other specialties like Sea sophronia, Myscelia orsis, and Pythonides lancea - a trio of blue beauties! Forested could produce Eurybia pergaea and Opoptera syme, while there are some stunning metalmarks to be found in more open areas, like Panara soana, Chalodeta chelonis, and even Barbicornis basilis. Although the hotel we'll stay at here doesn't have the personalized charm of Serra da Bocaina, it's comfortable and perfectly placed with great habitat right on the doorstep!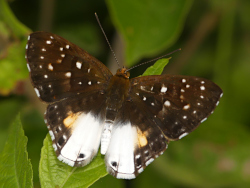 Day 9 - Over the hills
At some point today we will pack up and drive to the inland side of the mountain range and set up in our pleasant country hotel near Itamonte. We can use the time either in Itatiaia, or in the relatively dry forest behind our hotel which is home to a different set of butterflies; Lemonias zygia can often be found, as well as some interesting clearwings such as Methona themisto and Aeria olena.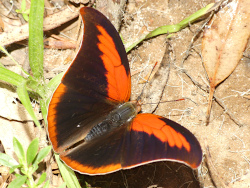 Days 10-11 - Itamonte Area
For our two days staying at Itamonte, we'll spend the afternoons around the hotel, but as long as it's sunny in the morning we'll focus on the high elevation areas within an hour's drive of our hotel. One of the main targets here is the spectacular Polygrapha suprema, but there are lots of other goodies to hope for: pretty grass-skippers like Vettius ploetzii and Thespieus tapayuna, unusual firetips including Elbella iphinous and Mimoniades montana, and mountain satyr species like Moneuptychia umuarama and Pampasatyrus gyrtone.
Day 12 - Heading west
After a final morning around Itamonte, we'll spend the middle of the day driving to the resort town of Campos do Jordão. This will be our base for the exploring the unique forests and Araucaria-studded grasslands of the area; depending on timing and weather, we may make our first visit to the nearby state park in the afternoon.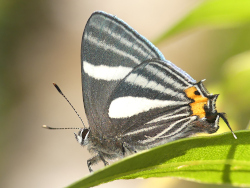 Days 13-16 - Campos do Jordão
We'll have four full days to sample the fascinating mountains within an hour's drive of our hotel. One major target will be the extremely localised and stunning Pampasatyrus reticulata, which is restricted to isolated bog habitats where we could also find Tmolus venustus. We'll also search the high elevation grasslands for two Stichelia metalmarks species, Aricoris hubrichi, ad others. Mud puddle parties can include firetips like Mimoniades ocyalus, a few swallowtail species including Mimoides lysithous, and also some nice high elevation whites like Pereute swainsoni and Catasticta bithys. There's a nice hilltopping site where we could enjoy chasing two species of Sarbia among others. Finally, we'll also try forest trails for bamboo-loving satyrs like the unique Foetterleia schreineri and unusual hairstreaks - Arawacus tadita, Thestius azaria, and Theritas deniva are among my favourites from past trips.
Day 17 - Out of the mountains
We'll spend a final morning around Campos do Jordão before making the 3 hour drive to Serra do Japi. We can do our butterflying at either end of the trip; late in the day near our hotel we could find several owl-butterflies, including the beautiful Caligo beltrao.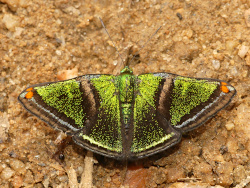 Days 18-20 - Serra do Japi
Our final three field days will be spent relaxing at Serra do Japi - a beautiful range of low hills north of São Paulo which is a well-known butterflying hotspot among local enthusiasts but rarely visited by international travelers. Right outside our hotel, the forest edge and open areas, including some good puddling spots, attract metalmarks like Caria plutargus, Charis cadytis, Pirascca sagaris, and Monethe alphonsus, as well as firefips and swallowtails. The forest trails are excellent, especially bait-loving nymphalids like Memphis appias, Dasyophalma creusa, and Archaeoprepona chalciope and some neat skippers including Vehilius clavicula and Phanes almoda. We'll also probably spend at least half a day driving up to higher elevations, where we could find specialties like Rekoa malina, Astraptes elorus, Sostrata cronion and Heliconius besckei.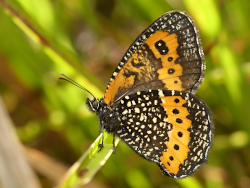 Day 21 - Flying home
Depending on international flight times, we may or may not have any time to butterfly around the hotel grounds in the morning before driving to São Paulo international airport.