Oxynetra semihyalina, Bolivia

Janthecla rocena, Guyana

Pterourus zagreus, Peru

Mesosemia metuana, Colombia

Eresia ithomioides, Ecuador

Catasticta discincta, Peru
PERU Andes & Amazon 2019
Mariposa Butterfly Tours Itinerary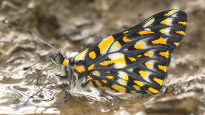 Day 1 (October 02, 2019) - To the Cloud Forest
We'll begin the trip with an early flight from Lima to Cusco before driving to the Manu Road, looking for some high-elevation butterflies en route as time allows. Our main stop - for lunch and butterflies - often produces the wonderful firetrip Mimardaris cosinga and a couple of beautiful Catasticta.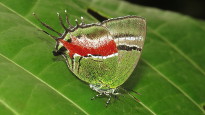 Days 2-8 - Manu Road
The Manu Road is truly a unique butterflying destination, with beautiful habitat from the treeline at 3600 m. down to the foothills at 500 m. - and we'll have time to search for special butterflies at all elevations along the way! Over 2000 species have been recorded in this area, and it's still not so hard to find a new one for the list. We should find a variety of nice Dalla and many satyrs as a taste of the high Andes, while hairstreaks and metalmarks will likely highlight the lower parts of the road. Our base here will be at mid-elevation, so we'll make a decision each morning based on the weather, and drive up or down to wherever we think we'll find the best bugs on that day.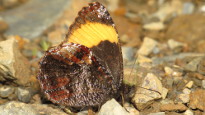 Day 9 - Back to Cusco
Usually the "return to Cusco" day involves a relatively early start, and then a couple hours of butterflying at higher elevations than we usually visit while based at Cock-of-the-Rock Lodge. This means a chance at some rarely-seen hairstreaks and clearwings (Penaincisalia purpurea and Methona maxima, for example), and of course some spectacular satyrs such as Junea and Apexacuta. In the afternoon, we'll complete the drive to Cusco, where we'll spend the night.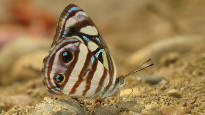 Day 10 - To the Rainforest
This will be a travel day, as we fly out of Cusco to the lowland town of Puerto Maldonado; from there we'll travel overland and upriver to the pristine ARCC reserve where we'll be staying at Lago Soledad. Butterflying opportunities will be limited, but if time allows we'll check out some river beaches or roadside hotspots along the way.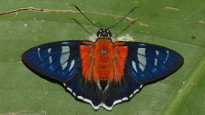 Days 11-17 - Lago Soledad
Simply-put, this is one of the Amazon's best butterflying lodges! My first visit there produced nearly 700 species over a stay just over 2 weeks long, and we'll find a good portion of those during this week. There are trails through various forest types, and we'll explore them looking especially for intriguing metalmarks (especially many wonderful Calydna species, rainforest satyrs (Amphidecta, Cithaerias, Taygetis), and lots of others. We'll also check a river beach a couple of times to add a variety of Pierids and swallowtails to our list, while the edges of the lodge clearing is a great spot for hairstreak-hunting in the afternoon. All in all, this should be a very exciting week of butterflying in the heart of a beautiful rainforest reserve.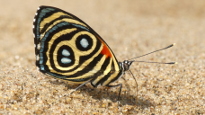 Day 18 - Out of the jungle
This day will require an early start as we take a boat back down the Las Piedras River, and drive on to Puerto Maldonado in time to catch an early afternoon flight back to Lima. We'll arrive in time to make evening international flights out of Lima.
Group of 4 USD$6790 per person | Group of 6 USD$5675 per person | Group of 8 USD$5095 per person
Single Supplement: USD$1050 (regardless of group size)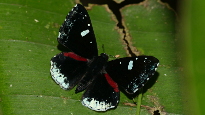 Prices
Price per person depends on group size, and includes: all in-country transportation, all meals and drinking water, lodging (includes one night in Lima; depending on international flights you may need two, which we can also arrange for you), guiding, and entrance fees. Not included are tips, laundry, and extra drinks.
Group of 4 USD$6990 per person
Single Supplement: USD$1050