Oxynetra semihyalina, Bolivia

Janthecla rocena, Guyana

Pterourus zagreus, Peru

Mesosemia metuana, Colombia

Eresia ithomioides, Ecuador

Catasticta discincta, Peru
PERU Firetip Frenzy 2019
Mariposa Butterfly Tours Itinerary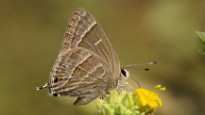 Day 1 (October 22, 2019) - Over the Andes
We'll begin the trip with a driving day, as we leave the coastal desert and head over the Andes. It's a spectacular drive from sea level up to the crest of the Andes, and down the otherside; we'll butterfly as time allows, probably looking in the low-diversity West slope dry scrub - it's a habitat we won't see otherwise on the trip! In the afternoon we'll arrive in San Ramon and perhaps see a few common East slope species before dinner.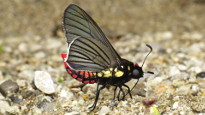 Day 2 - First Firetips!
We'll make a day trip today to a site near San Ramon, where we'll beging our sampling of cloud forest butterflies - including firetips. Other good species to look for include several species of Catasticta dartwhites and some nice hairstreaks.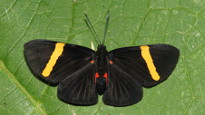 Day 3 - Off the pavement
Today we have about 3 hours of total driving, so there's lots of time to look for butterflies somewhere. We might spend our time at a different site near San Ramon, or possibly in the higher forests around Villa Rica - it depends on the weather and how we did on Day 2! No matter what, we'll be hoping to add more Andean cloud forest species to our growing list. We'll spend the night in Villa Rica after leaving paved roads behind for the next week!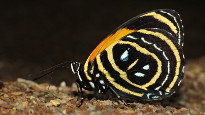 Day 4 - Into the Wilds
We'll leave early and spend the day getting ourselves to El Paujil. This is quite an adventure, and involves a 4-hour drive and then a boat trip that involves walking around rough sections of the river; the last walk is a couple of kilometres long, and we'll use it to do our butterflying for the day.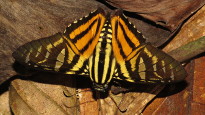 Days 5-8 - El Paujil
While staying at El Paujil, we will have shared bathrooms and ambient-temperature (not necessarily cold!) showers, but there are plenty of rooms to choose from and it's a wonderful place to really experience the rainforest - and we'll have our own cook along to make sure we eat well! We're in the foothills here, but most of the butterflies are typical of the Amazon lowlands. I've only been here once previously, but what we found during that visit is impressive: a great beach with firetips, Callicore and swallowtails, uncommon leafwings like Prepona (Agrias) claudina and Polygrapha xenocrates, and some enigmatic hairstreaks and metalmarks including no less than 19 species of Euselasia. You can see my El Paujil gallery on flickr here.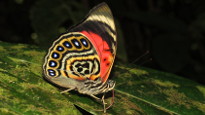 Day 9 - Back to Civilization
This will largely be a travel day, as we boat back down the river and drive out to Oxapampa. Last time I did this day, we had a productive coupld of hours along the drive at some roadside sites, especially enjoying a variety of great hairstreaks.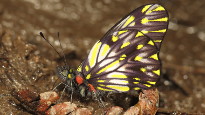 Day 10 - Up in the Andes Again
This will actually be one of our higher days in terms of elevation; we'll visit a site around 2200 m. above Oxapampa and look for a totally different set of bugs from what we've seen so far. We should see some interesting satyrs, hopefully including the beautiful Oxeoschistus leucospilos. Other nice butterflies I've seen here include the very pink Euselasia amblypodia, Calycopis suda (yes, an interesting Calycopis!) and many others. We'll stay in Oxapampa for one more night.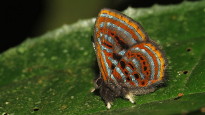 Day 11 - Down the Pozuzo Valley
The drive from Oxapampa to Pozuzo is beautiful, as we wind our way down the steep-sided valley through Yanachaga-Chemillen National Park - the same park that contains El Paujil, but in a totally different habitat! We'll stop somewhere along the 3-hour drive for butterflying, probably adding several good species of Dalla and yet more firetrips to our tally.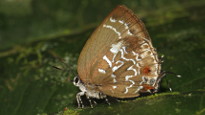 Days 12-13 - Site of the Frenzy!
The road above Pozuzo is a wonderful butterflying area; we'll spend these two days exploring it, especially using the trails around the Huampal ranger station - the stream here is where the original "firetip frenzy" happened! But in fact many of the attractions here are forest interior hairstreaks and metalmarks, such as Paiwarria telemus and Mesene monostigma, as well as Caligo owl-butterflies, morphos, and lots of others. On top of the butterflies, we'll also enjoy the unique town of Pozuzo in the evenings (as we eat and ID our photographs!).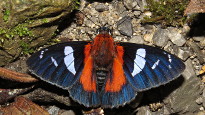 Day 14 - Retracing our Steps...
Today is mostly a travel day as we drive back to Oxapampa and on to San Ramon before breaking new ground as we drive up the Ulcumayo Valley to our final butterflying hotspot of the trip at Pampa Hermosa. We have about 6 hours of total driving, but we'll find some time for butterflying somewhere along the way.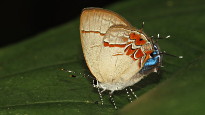 Days 15-17 - Pampa Hermosa
This wonderful lodge seems to be perfectly-placed for firetip diversity - on some visits, we've recorded around 20 species over a few days! Aside from a wide range of Mimardaris, Pyrrhopyge, Yanguna, and Mimoniades species, we'll also look for a variety of satyrs, hairstreaks, and of course more unexpected metalmarks. The nicest thing about staying here is that all the best sites are around the lodge - no driving required!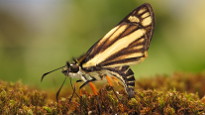 Day 18 - Back to town
After lunch at Pampa Hermosa, we'll drive back out to the paved road and up the valley to the town of Tarma, where we'll spend our final night in a nice hotel on the edge of town.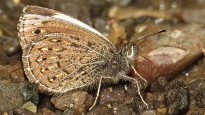 Day 19 - Over the Andes, again
This is purely a travel day, as we make the drive back to the Lima airport, arriving there in time for late afternoon flights. If time and weather allow, we often make a stop at the spectacular Ticlio pass; here at almost 5000 m. elevation, there are some truly strange butterflies to be found if we're lucky!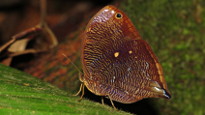 Prices
Price per person depends on group size, and includes: all in-country transportation, all meals and drinking water, lodging (includes one night in Lima; depending on international flights you may need two, which we can also arrange for you), guiding, and entrance fees. Not included are tips, laundry, and extra drinks.
Group of 4 USD$6590 per person
Single Supplement: USD$900